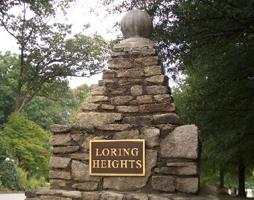 Loring Heights may be just a blip on the Midtown map, but it's also one of Atlanta's best-kept secrets. In fact, if you're rushing to work or to one of Midtown's many fashionable eateries, you may miss this peaceful pocket community altogether.
Nestled in the rolling hills of the Atlanta, just north of Atlantic Station and south of Buckhead, Loring Heights was established just before World War II, the neighborhood is tucked between Northside Drive and Peachtree Street, about one mile north of the Georgia Tech campus. Loring Heights Atlanta homes were built to service the nearby railroad and the Atlantic Steel Mill, but the subdivision was never completed due to the war and plans for Interstate 75. The Loring Heights neighborhood has grown in size over the years with the infusion of neighboring Lynnhurst, an even older community that never quite made it on its own. Combined to become simply "Loring Heights," the popular in-town community is now made up of roughly 330 houses.
The Loring Heights neighborhood hosts regular social events, including the popular "First Friday Fiesta", a party held at a different neighbor's home the first week of every month in the summer, as well as other events throughout the year.
The Loring Heights neighborhood in Atlanta gets its name from Brigadier-General William Wing Loring of the Provisional Army of the Confederate States. An historic marker of "Loring's Hill" (shown left) is located in the neighborhood on Trabert Avenue.
The Loring Heights neighborhood was originally two separate subdivisions; Lynhurst Acres to the south of Deering Road and Loring Heights to the north of Deering Road. Now, they are combined as a single neighborhood according to the Atlanta NPU. Most of the homes in Loring Heights were built in the 1940s, but there are several recent renovations and new-construction homes as well.